Campwood Press Ltd
Printers In Clacton On Sea, Essex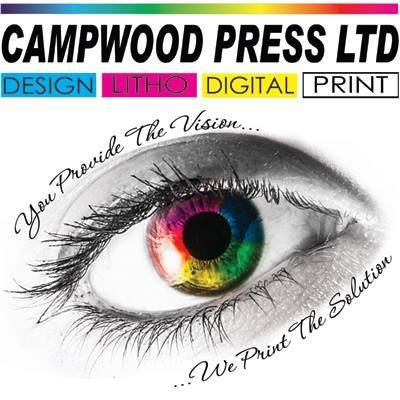 Verified
Key Services
Digital Printers
Litho Printers
Leaflet Printers
Flyer Printers
Business Cards
Brochure Printing
Commercial Printers
Business Stationery Printing
Wedding Stationery
Posters
Large Format Printers
Photocopiers
Information
Opening Times
Monday
8:30 - 15:30
Tuesday
8:30 - 15:30
Wednesday
8:30 - 15:30
Thursday
8:30 - 15:30
Friday
8:30 - 15:30
Map of Campwood Press Ltd
Campwood Press Ltd's Gallery
About Campwood Press Ltd
Campwood Press Printers are based in Clacton On Sea, they were established in the 1950s and have built up a renowned reputation throughout the area, supplying the Essex area with high quality printing services.
Campwood Press are digital printers, meaning that they can provide their printed products within a small time frame, it is also a less costly type of printing meaning that their customers are being provided with high quality products at competitive prices, a good example of digital printing are items such as business cards, which sometimes need to be printed quickly and cost effectively, so if you are looking for digital printers in the Clacton on Sea or Essex area, then get in touch with Campwood Press Printers.
Campwood Press became Lithographic printers in the 1970s, this means that they can mass produce products, the method of printing means that lithographic printing can create a great impression on a range of surfaces creating a beautiful looking printed product, whether this is leaflets and flyers to business stationery. For Lithographic printers in the Essex area, get in touch with Campwood Press.
Business Stationery is a great way to give your customers and business associates a good impression of your business, Campwood Press are Commercial Printers and can provide you with a high quality range of business stationery, you will be able to make your business look more professional. Business stationery includes items such as Business Cards, Letterheads and Compliment slips, so if you have a business and want to give yourself a professional edge then make sure you give Campwood Press a call, based in Clacton on Sea.
Planning a wedding can be a stressful and busy process, therefore make sure that you choose Campwood Press to print your wedding stationery to ease some of the stress, you can be rest assured that your guests will be receiving beautiful wedding invites that have been printed to the highest standard and will ooze quality, you can work with the in house designers to make sure that your invitations are elegant and incorporate your personality, so if you need some help with your wedding stationery in the Essex area, then get in touch with Campwood Press of Claton On Sea.
Printing is very largely used for advertising purposes, the use of flyers and leaflets can be a great way of advertising your business, products or services. Campwood Press are renowned leaflet printers and can create eye catching leaflets that will catch the attention of your target audience, so if you are looking for flyer printers in the Essex area then pop in to Campwood Printers.
Another good way of marketing is through the use of brochures, they can help provide more information than a flyer or leaflet whilst still maintaining an eye catching appearance. So for brochure printing in Clacton On Sea get in touch with Campwood Press.
The use of posters can be used for a variety of different reasons, whether it is for advertising or just for personal use to add some decoration to a room. Campwood Press in Essex, can provide you with top quality posters that can either incorporate your idea or can be especially designed by the in-house designers.
Campwood Press Ltd aren't just your run of the mill printers. They are much more than that. Offering large format printing means your advertising materials are in safe hands. Do you need a poster printing, or several of them? Perhaps you need banner stands for an exhibition or conference. Campwood use only the finest large format printing technology to help you get the most out of your promotional techniques.
As well as offering a high quality large format printing service in Clacton On Sea, Campwood Press Printers are also highly experienced photocopiers and will take on any photocopying job, no matter how big or small it is.
If you have any type of printing requirements in the Clacton On Sea, Essex area, then make sure you give Campwood Press a ring, or check out their website for more details. For the best printing in Essex then Campwood Press Printers are an excellent choice.
Campwood Press Ltd Reviews