Business of the Month - Meadow Lakes Holiday Park
Tuesday, 8th April 2014
Welcome to Bizify Business of the Month
How many staff do you have at the park?
Mick, Tracy, Barbara, Richie, Claire, Liz, James, Paul, Darren, Nick, Charmaine and Toni
How long has your business been established?
Acorn Parks purchased Meadow Lakes in 2009
Tell us more about what you do on a daily basis?
All duties related to a busy holiday park, looking after the pets, attending and looking after the lakes and wildlife
Do you have any recently added new features at the park?
We will be adding some more 'Glamping' accommodation, our New Cosy Cabins to Meadow Lakes very soon….. so keep an eye on our website.
We also welcome Liz and James our new Wardens who started with us this season and Nick our new maintenance man.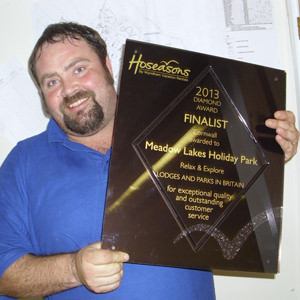 We have a new Blog page
Check out our gallery on Pinterest
Do you have anything special you would like to mention?
Wish all our customers happy holiday with us in 2014 and check our special offers page