Benefits of being listed on a directory
Tuesday, 23rd February 2016
Getting your business found is key to success, as simple as it sounds you need to have your business out there to be seen and heard from the rooftops. Having all areas of your business covered will give you mass amounts in opportunities to grow, expand and go places your business never imagined. You will be amazed at just how much you can do just by upping your game, because believe it or not but there are thousands of other capable businesses out there fighting to be chosen by the sale customers as you, so you need to stand out and impress the client. Having your business listed on popular directories like Bizify will give you the customer reach like none other. This will give you an amazing advertising strategy that comes with very little work, all you have to do is sign up!
If you limit yourself to where you go or what advertising tools you use, the likelihood is that you will lose sales and customers as they find bigger and better companies elsewhere. Don't let your business get lost in the crowd come and stand out, join Bizify today! You will be able to say goodbye to the pain of unsuccessful advertising and welcome your new, improved and amazing strategy that allows you to target your real audience with ease.
Magnificent Opportunities
The further you reach out to customers the further your customer base will grow. Having your business listed with Bizify will allow you to target your customers in your local town, county, region or even nation wide. Whatever your needs or size of business, you will see phenomenal effects through having your business listed with us. From growing your customer base to increasing sales and profits, having something as simple as a directory listing will generate tremendous benefits.
Once you have got your business listed, you have opened a number of new doors that allow you to grow and target more customers. Having yourself listed on a reputable business like Bizify allows you to be found with ease, whilst growing your customer base and brand awareness. Sounds too good to be true, but it is! Our directory is outstanding for its performance, giving your customers the chance to find you online in just a few clicks… Using Bizify to get your business found is a remarkable choice of directory for business owners looking to promote their products and services. You will be able to showcase the best assets of your business with Bizify, allowing customers to be wowed and amazed at every aspect of your business. Take the step, branch out to success and sign up to Bizify today.
Benefits of Being Listed
Endless advertising
Reputable link to your business's website
Allows you to choose how you reach your customers (local, county-wide, regional or national)
Growing brand awareness
Increased visibility in search engines (Google)
Inexpensive solution to advertising and promoting your business
Targeting new customers and get noticed by a new audience
Reaching relevant customers that require your skills (they've searched for your services)
---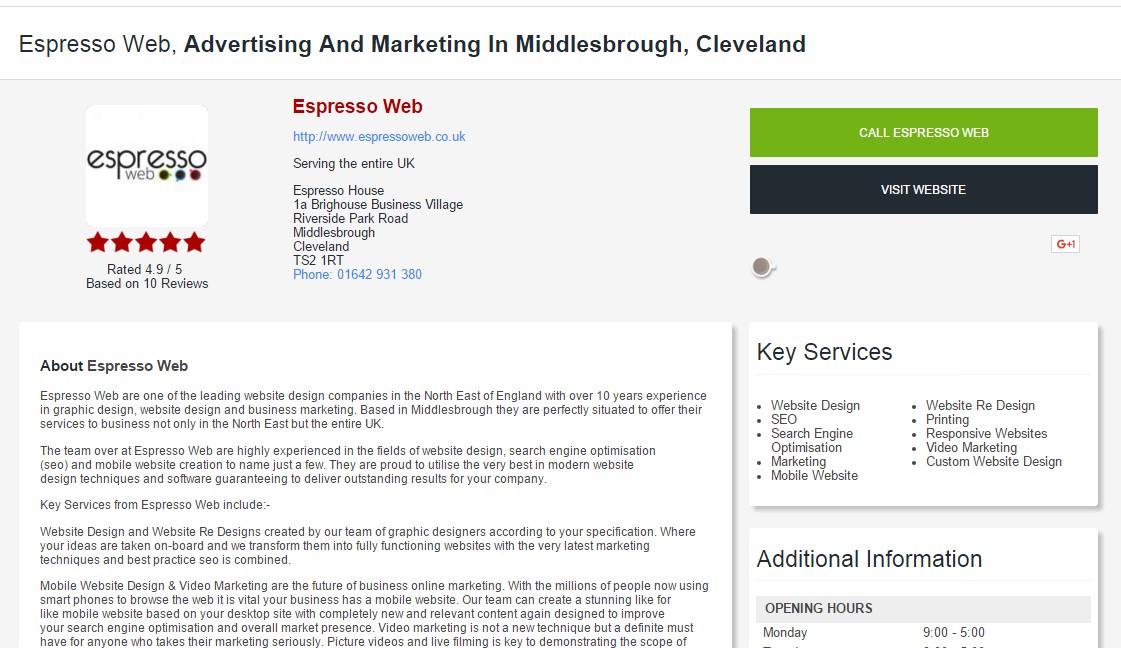 ---
What is Included with a Bizify Listing?
We offer two kinds of listings, giving you the customer the chance to decide which benefits your business best, you have the choice between our free or paid listing. The paid listing works best for the majority of our customers, as it helps their customers find them whilst providing information on their business allowing the customer to find out more about their company before proceeding into an enquiry. This allows the customer to dictate which listing best suits their needs, hence why you will need to have the best listing to give the reader no other choice but to choose your product or service. With our paid listing, you will find that we offer a wide range of features which include:
Business name, address, website, telephone
Information on the business (detailed)
Business logo
Gallery and videos
Reviews
Key services
Social media links
Call to action
Map to locate the business
Additional information (opening hours)
No matter your needs with our directory, our team are on hand throughout to help provide you with the ultimate listing. You don't need to worry about completing the listing yourself as we can do it for you, giving you a stress free and extremely successful form of advertising which brings you a whole new world of customers. Our directory will help your business to grow and expand, target customers who do require your service, all of which will take no time out of your day as our team will do the work! Sounds impressive right? We know, the team at Bizify have been generating successful listings and leads for businesses for many years now and we know too well the impressive results it can bring. We're just as amazed as you are, and can assure you that our listing is worth investing in. With the internet being at the forefront on many businesses and advertising nowadays, it makes sense to take the step into online advertising, so come and get listed with Bizify today, you won't regret it!
An Example of a Successful Listing
Understanding what our listing can do for your business may be difficult without evidence, so we have developed an example of a successful listing. This gives you a clear idea of how your listing will look on our directory. Make the most of your business, products and services by showcasing them for all to see. The internet is the first route to enquires for most businesses, so don't miss out on the opportunities for your business to target, reach and meet new customers, simply join our directory to avoid disappointment! Give your business the best chances of success by getting listed with Bizify today!